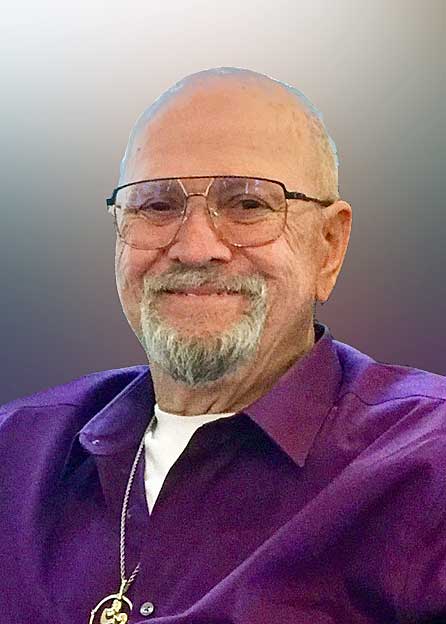 Lowell Edmund Korte, the fourth child of Theodore Herbert and Eleanor Noehring Korte, was born on March 10, 1942, in St. Cloud, Minnesota. He passed away on October 20, 2021, at the age of 79 at Overlake Hospital, Bellevue, Washington.
Surviving Lowell are his wife, Mary Margaret Miles Korte; his daughter, Janel Elizabeth Hart and husband Daniel Thomas Hart, Jr; his son, Delmore Herbert Korte; his three grandchildren: Keegan Lowell Krahn, Thomas Lane Krahn, and Eleanor Rose Krahn; his stepson, Victor Ryan Hamilton and family, Jory Leh-Shun Hamilton, Julia Ling-Ling Ruby, Mark Thomas Ruby, and Roslyn Gemma Ruby; and his younger brother, James Herbert Korte.
Lowell was only two when his father, seeking employment in Kirkland's Navy Shipyards, moved the family from Minnesota to Washington State in 1944. During his youth, Lowell served many years as an altar boy at Holy Family Catholic Church in Kirkland. He was notoriously all-boy when it came to playing pranks on family, classmates, and friends. Being dyslexic, reading was difficult for him. Lowell left Lake Washington High School during his sophomore year to join the Army. He was stationed in Germany. Six months before the end of his enlistment, he—deciding to become an Army-career man—volunteered to be transferred to Vietnam. After months of waiting for his transfer papers, he learned his commanding officer had been secretly withholding them so he could receive a bonus for his re-enlistment. This did not sit well with him. Thus, after three years of active service, Lowell, a Sergeant, was Honorably Discharged from the Army on February 22, 1961.  He then served in the Reserves until January 31, 1967. The Army lost a good man.
Lowell was married from 1967 to 1985 to Susan Marie Elizabeth Flexer. They had two children.
In 2004 Lowell remarried. He and his wife Mary built their home (and his dream garage) on his Rose Hill property in Kirkland. In 2007 they purchased a home in Arizona and became yearly "snowbirds."
Lowell worked as a bus mechanic for the Lake Washington School District for twenty-seven years, retiring at the age of 49 in 1991. For many years he enjoyed playing golf with his brothers and friends. Besides sports and car racing on TV, he loved the educational shows. On nice days, he sat on the back porch, listening to the collective sound of children playing in the adjacent school yard. In his "senior" years, he spent many hours rebuilding a 1923 Ford T-Bucket Roadster when in Arizona and a 1956 Chevrolet when in Washington.
Tributes to Lowell
I feel fortunate to have known Lowell for 52 years—34 as a good friend, 18 as a loving husband. Every day we expressed our love for each other in big and small ways. He easily made me laugh, and our hearts were like one. He cared deeply for family and friends. He spoke his mind. He was honest, intelligent, protective, caring, and ingenious at solving problems. When he and his buddies were about twelve, they built a go-cart which they drove down hilly Market Street, once clocking a run at 35 mph, once getting pulled over by the police. Since none of them had the money to buy a motor, he, unbeknown to his mother, unbolted their lawnmower motor, used it all day on the go-cart, and then but it back before she returned from work. Never did she know.  –Mary
If you ever met my father, you would know he genuinely cared about people. He loved his family fiercely. He once told me he had never met his grandfather and didn't know if he even loved him. To him, it was important that his children and grandchildren knew how deeply he loved them. When his friends fell on hard times, he always offered up a couch, tent, or parking spot for their RV. He would readily give the shirt off his back to anyone in need. A lifelong mechanic, there was nothing my father couldn't fix, either in the house or garage. He was what you would call a "Car Guy", working on his cars even when his hands and body didn't want to cooperate. Sometimes his son-in-law would say, "Lowell, let's go work on the ['56] Chevy today; see if we can take care of that problem." He just needed hands to do what he couldn't do with the pain of advancing age. My father will be missed dearly by all those whose lives he touched. – Janel
My dad, a renaissance man in his own way, fixed cars, shingled roofs, and in his retirement years, completely remodeled a cabin on Camino Island. He enjoyed looking at the night sky through his telescope and had an interest in history, especially WW II and the Flying Tigers. He was always there for my sister and me, and he was also close to his siblings. He valued friendships and willingly helped anyone in need. When a kitchen water pipe busted at a restaurant he frequented, he came to their rescue and fixed it. One time he opened his home to a friend who stayed for two years. He never wanted pets, but became attached to and protective of Taz, a kitten left by said house guest.  He loved motorcycle riding, and in 1989 he took me on a four-week, cross-country motorcycle adventure. I will always cherish that time with him. I remember him telling me Santa Claus lived in the hearts of men. Dad, you will live in my heart always. – Del
My Grandpa Lowell was a man you could call many things: hard working, family oriented, compassionate, veteran, mechanic, husband, father, grandfather and so much more. He bought me my first pocketknife and taught me how to whittle. He showed me how to change a tire and let me drive his riding lawnmower and golf cart. I crashed the golf cart into a small boat leaning against his old shed, but he quickly trusted me to mow his lawn. He showed me so much of America in what he called "the trip of a lifetime." Before he died, we had an incredibly awesome and reminiscent conversation about that entire motorcycle journey. If there was one word to describe Grandpa Lowell, it would be stubborn. At age two, he saw his first motorcycle. Angry when told he couldn't have a ride on it, he ran away from home. Somehow, someway he ended up getting his first ride on that bike. And when told he couldn't retire at 50, he retired at 49. My grandpa was one of the most influential male role models in my life. – Keegan
My grandpa loved with all his heart and was incredibly loved in return. I'll miss the story's he told. I'll miss our afternoons out golfing. I'll miss having him around. I feel very lucky to have had such a wonderful relationship with him, and I will forever cherish the time we spent together. – Tommy
Grandpa Lowell always had a story to tell. Many times, there was this common theme: not accepting the status quo if it didn't make sense no matter how people might react. – Julia
I am convinced Frank Sinatra wrote "My Way" about Grandpa Lowell. He lived life standing up to the wrongs he saw in the world . . . such as to a mean neighbor when he was a 4-year-old child and to corruption when he was in the army. Lowell stood for what's right in the world, never giving up on friends. He would pull over and help strangers in their time of need when others passed them. Lowell found his voice and used it to advocate for himself, those he loved, and for the common good of humanity. – Jory
The post Lowell Edmund Korte first appeared on Barton Family Funeral Service.