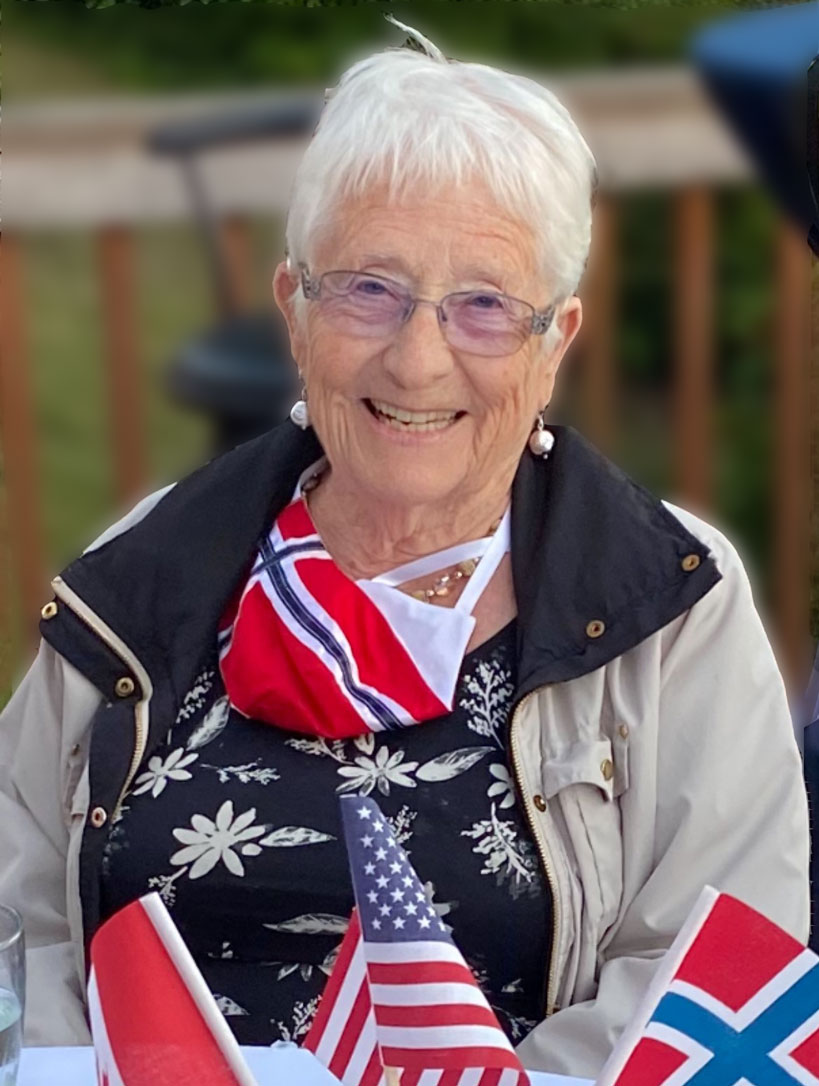 Ingebjørg Gursli. Born July 25, 1930 went to be with the Lord Jesus and her eldest son Gordon Gursli March 11, 2023 at the age of 92.
Ingebjørg known by her family in Norway as (Lull) was born in her hometown of Røldal Norway, in a modest hillside home. she was the eldest of seven children.
She grew up in the beautiful mountain community in the west part of Norway with many fond memories even during the German occupation of WWII when it was a time of uncertainty and rationing.
Upon graduating from school and being confirmed in the local Stave Church (Dating back to 1100 Ca.) Ingebjorg at the age of 13 to 14 left home to work with Goat herds, on a farm in a nearby valley (Valdalen) for a year.
At the age of 17 – she left home again and joining her sister Gerd in Olso where they took on maid /assistant jobs, Ingebjørg for a famous artist, Agnes Hiorth painter of Haakon Vii the King of Norway, which was unveiled in 1948, and currently hangs in the Oslo City Hall.
Both her sister Gerd and Ingebjørg enjoyed their time together at dances, and both eventually moving to Odda, near their home in Røldal to work, here they met their future husbands. The couples spent time together, before Ingebjørg immigrated to Canada in 1952 with Her lifelong love Reidar, Reidar traveling first in April 1952 and then Ingebjørg arriving August 29th, upon which they were immediately married the following day, 30th of August. Marriage of 70+ years. Ingebjorg (Also known as (Inga) remained with her husband in Vancouver BC 8 years before seeking opportunities in Seattle WA in spring of 1960 settling in Seattle first and then moving to Edmonds WA. In 1962. Where they built a home and raised their family. Ingebjørg was devoted wife, mother, grandmother, and great grandmother, and a true friend to many, known for her beautiful smile and infectious laugh. Loved by all in Norway and her adopted family here in the Pacific Northwest.
Surviving are her husband, Reidar; sons Roy Gursli, and wife Debbie E Gursli, Ted Allen Gursli; Grand children Erika N Gursli, Justin Gursli and wife Angie Gursli, and Kristian G Gursli; Great Grandchildren – Taylor Gursli Pichler, Preston, Carolyn, Adelyn, and Celia Gursli; Sisters – Gerd Schaatun Aslaug Solbakken, and Brother Oddbjørn Lynghammar.
She was preceded in death by son Gordon Gursli, Brother Gunnar Lynghammer, Toralf Lynghammer, and sister Borghild Lynghammer.
Celebration of life to be Held.
Thursday March 30th, 2023, at 2:00 PM
Maple Park Lutheran Church
17620 60th Ave W
Lynnwood, WA 98037
In Lieu of flowers please consider donations to the
The post Ingebjørg Gursli first appeared on Barton Family Funeral Service.