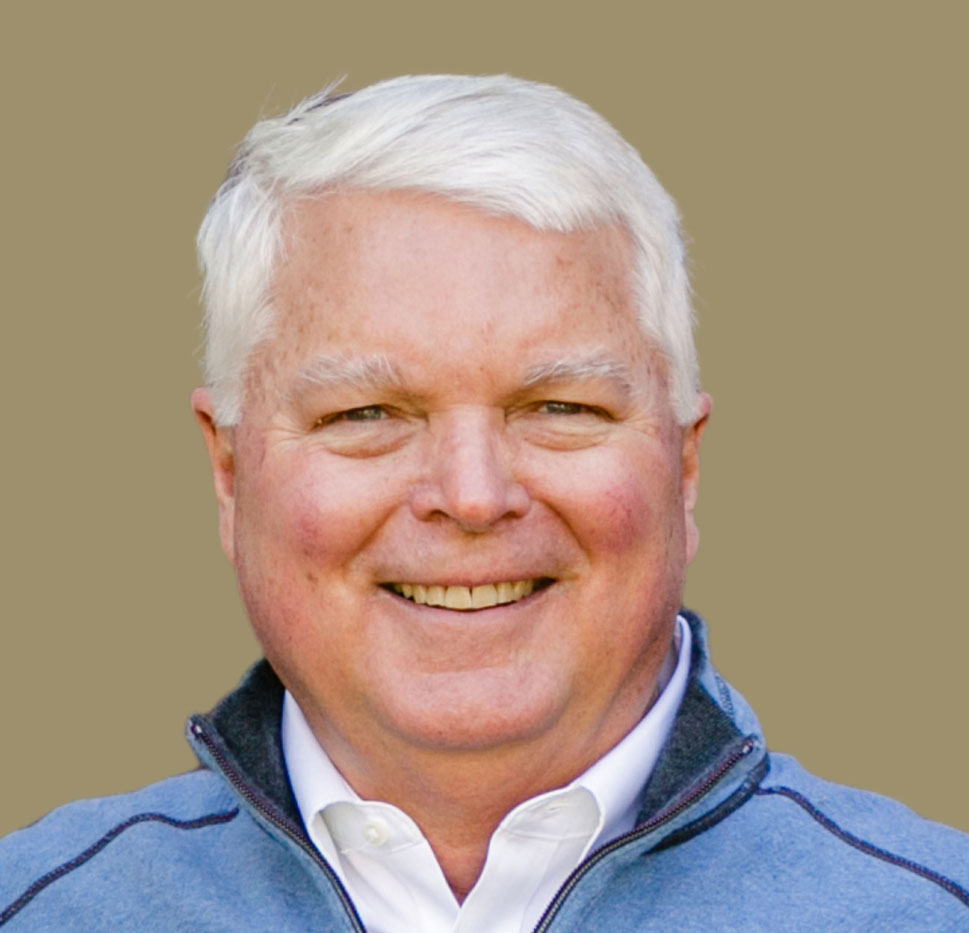 Gene Larson, born Eugene Larson Jr., passed away peacefully on Friday, March, 10th surrounded by his family after a short but intense battle with pancreatic cancer.
Gene was born in San Francisco, California on June 8, 1951 to father Eugene and mother Tjeerdske. With younger siblings Linda and Glenn, Gene spent a happy childhood in the Bay Area where he was a sailor, figure skater, and high school swimmer. He excelled in academics and was known to be an especially adept and graceful skier, an activity that combined his athleticism and engineering mind. In his later teenage years, Gene obtained his pilot's license and motorcycle license. Learning came easily to Gene, but he loved to discover new skills, absorb new information, and read up on current events, habits that stuck with him throughout life. A lover of facts and always eager to share new knowledge with others, one of his catchphrases began "Did you know…" and he said it so often he was even gifted a personalized license plate displaying the phrase.
After graduating from Mills High School of Millbrae, Gene attended UC Irvine where he was a college rower and later transferred to UC Davis where he completed his Bachelor of Science degree and lived with roommates who became friends for life. An unofficial fraternity of sorts, Gene and his Davis roommates remained friends well beyond graduation, even reuniting for houseboat trips to Shasta. Gene was a serious student in college and the relationships he built in that time helped shape his life to come. It was at Davis where he met his lifelong love, Carol, a moment he often said, "forever changed his life for the better."
Gene's own dad passed away shortly after college, an event which bifurcated Gene's path in life, as he shifted away from pursuing the family business to strike out on his own as a mechanical engineer.
A few years later, Carol and Gene were engaged on Christmas Eve, and they married on Valentine's Day in 1976, a choice Gene cleverly said meant that he never forgot their wedding anniversary though his family knew it was really because he was a hopeless romantic. Gene and Carol settled in San Francisco where they spent their days working and their weekends playing, taking drives up the coast in their Alfa Romeo, lingering over lazy Sunday mornings with the paper and coffee, waving as the double-decker busses drove by their second story flat, and even flying to nearby cities for getaways when Gene was able to reserve a plane to pilot. Gene was known for arranging with Carol's boss to surprise her on Friday afternoons, whisking her away for the weekend, a bag already packed in the car, the first streak of many "grand gestures" that Gene was known for throughout his life, a pure expression of his enduring and abundant love for Carol.
In 1982, Gene and Carol welcomed their first daughter, Jenni, an event Gene marked with cigars and schnapps, as one did in those days. Gene quickly became enamored with his role as a doting father. In 1984, Gene accepted a job with NC Machinery, so the new family of three and their dog, Pisces, moved to Sammamish, Washington, where they lived for the next 30+ years. Shortly after settling in Washington, they welcomed daughter Jess in 1985, rounding out their family of four, his "girls" to which he was so devoted. The years the Larsons lived in Timberline were some of Gene's happiest. Gene was a hands-on father who read to his daughters every night before bed, frequently participated in school functions (even procuring a lion tamer's costume for a field trip to the zoo with Jess's class and driving a bus to preschool to help Jenni and her friends prepare for kindergarten), drove carpool, and engaged in epic tickle wars that would inevitably end in a bit of crying but a lot of fun. Gene was the soccer team assistant coach, the neighborhood volunteer Santa, the builder of many Barbie homes, the instigator of cul-de-sac-wide water fights, and an eager partner in elaborate school projects. He was the dad that every kid on the block dreamt of having but that the Larson girls were lucky to claim as their own.
In the late 1990s, Gene convinced Carol to join a partnership in a sailboat named "Winsome" that became the family getaway for years to come. Weekend trips to Poulsbo, Blake Island, and Ludlow, summer trips to the San Juans, and evening sails spent zigzagging across the Sound soon became the source of some of Gene and his family's best memories; the water, the waves, and the Winsome being the backdrop of many happy family photos. In later years, Gene and Carol would own a boat of their own, "Wilson", which was easily the highlight of their retirement years as they would disappear for weeks on end to spend time together (worrying their kids sick as they navigated areas without cell reception too caught up in their love of each other and the water).
The family grew over time. In 2007, Jenni and Ryan married with Gene acting as best man, and in 2008, Jess and Charlie married. Gene prided himself on gaining two sons in the marriages of his daughters and he loved the special relationships he cultivated with them built on long talks and special outings to sporting events, especially rounds of golf.
In his career, Gene started off as a mechanical engineer in his earlier days at Williams and Lane and NC Machinery, later starting his own company Product Resource Corporation, before landing at SNC Lavalin where he spent the bulk of his career and shifted into renewable energy. Gene was passionate about marrying his engineering background with the changing needs of companies and the environment as "green" and "renewable" became buzz words and eventually a way of life; he was early to the scene and became known as one of the leaders in renewable energy solutions in his later years. Gene loved his work, looking at each potential power plant or job as a complex problem that needed solving and an opportunity to build relationships. He understood the engineering and the science at the foundation of the work he led, and he had the people skills to make deals happen. Ask him about his work and you'd likely get a longwinded but enthusiastic response as Gene was truly passionate about his career and believed in the work he was doing, something he passed onto his kids as both his daughters found meaningful career paths as well. Gene's career even overlapped with his love of travel, taking him to faraway Warsaw, Poland and Auckland, New Zealand, and providing adventures for his family during those years of working abroad.
In addition to his passion for work and family, Gene was particularly committed to community service, volunteering as a long-time Lunch Buddy at Redmond Elementary, convincing his family to spend the holidays putting care packages and gifts together for those living in nearby transitional housing, running a sailing ministry for the family's church, and supporting his daughters' philanthropic efforts for Union Gospel Mission and Ronald McDonald House.
In his final years, Gene was a devoted husband to Carol during their 47-year marriage, and he became her primary caretaker during the last two decades as Carol underwent treatment for cancer. Upon learning of his own diagnosis in mid-January, his immediate response was to fight it, having watched his wife's inspiring strength and resilience over the last 17+ years. Though Gene never had a chance to undergo chemo, he was prepared to fight the disease that eventually took his life and was a long-time advocate of Carol's treatment. In remembrance of Gene's role as caretaker and his efforts to support cancer research over the years, his family asks that in lieu of flowers, donations be directed to The Fred Hutchinson Cancer Research Center of Seattle in his name.
A memorial service is planned in Gene's honor on Saturday, March 25th at 2:00 pm at Holy Spirit Lutheran Church in Kirkland with a reception to follow. All family and friends of the Larson Baldwin Wickers families are invited to attend the service. The family welcomes you to sign the virtual guest book by sharing a favorite story about Gene. Whether you are able to attend the service or not, Gene's family also invites you to honor him in some way that would have brought a smile to his face and have listed suggested activities that they think would honor Gene below.
Play a round of golf and invite someone with whom you can share a laugh.

Enjoy a really good glass of aged red wine or something pink and fizzy. Take the time to make a toast before your first sip.

Strike up a conversation with a stranger while waiting in line or sitting on a plane and maybe make a new friend.

Take your dog for a walk to a park and throw a ball or Frisbee for them.

The next time someone asks you for a favor, say yes. Lend a hand to someone who needs help (i.e. mowing their lawn, carrying groceries, moving, etc.) and pay Gene's selflessness forward.

Put on your Sunday best and take a loved one to a nice dinner.

And above all, when inspiration strikes, go for the grand gesture, the big idea, the dream.
The post Gene Larson first appeared on Barton Family Funeral Service.